JOIN THE PHOREST SMS MONEY-BACK CAMPAIGN!
Did You Know: With SMS marketing you can reach and retain 68% more of your clients and on average, a salon will make 22 times their investment on SMS campaigns?
We're on a mission to help you fill out your appointment books for 2018. We're so confident we're offering a full refund if you don't make DOUBLE what you spend on your campaign.
Check out the video below and click the link to opt-in!
Phorest SMS Money-Back Marketing
Click the image below to opt-into our SMS Money-Back Campaign.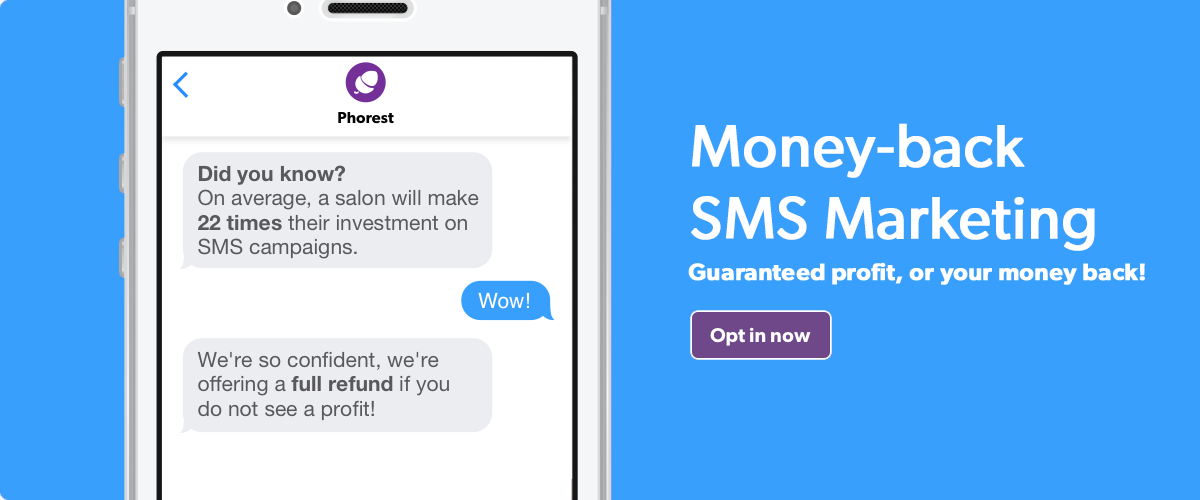 SMS Marketing: Return on Investment
Adam Gayle Hairdressing SMS Marketing Case Study Video
Phorest Salon Software: SMS Marketing Quiz
Test your SMS Marketing knowledge and Phorest skills with our SMS Marketing Quiz.
Phorest FM Podcast: Episode 88
Check out Episode 088 | Luke Doolin & Helen Devenney On Reaching 68% More Of Your Client Marketing Database
SMS Marketing eBook
Download our Phorest SMS Marketing Gameplan ebook to devise the perfect SMS Marketing strategy for your salon with step-by-step how-to guides.